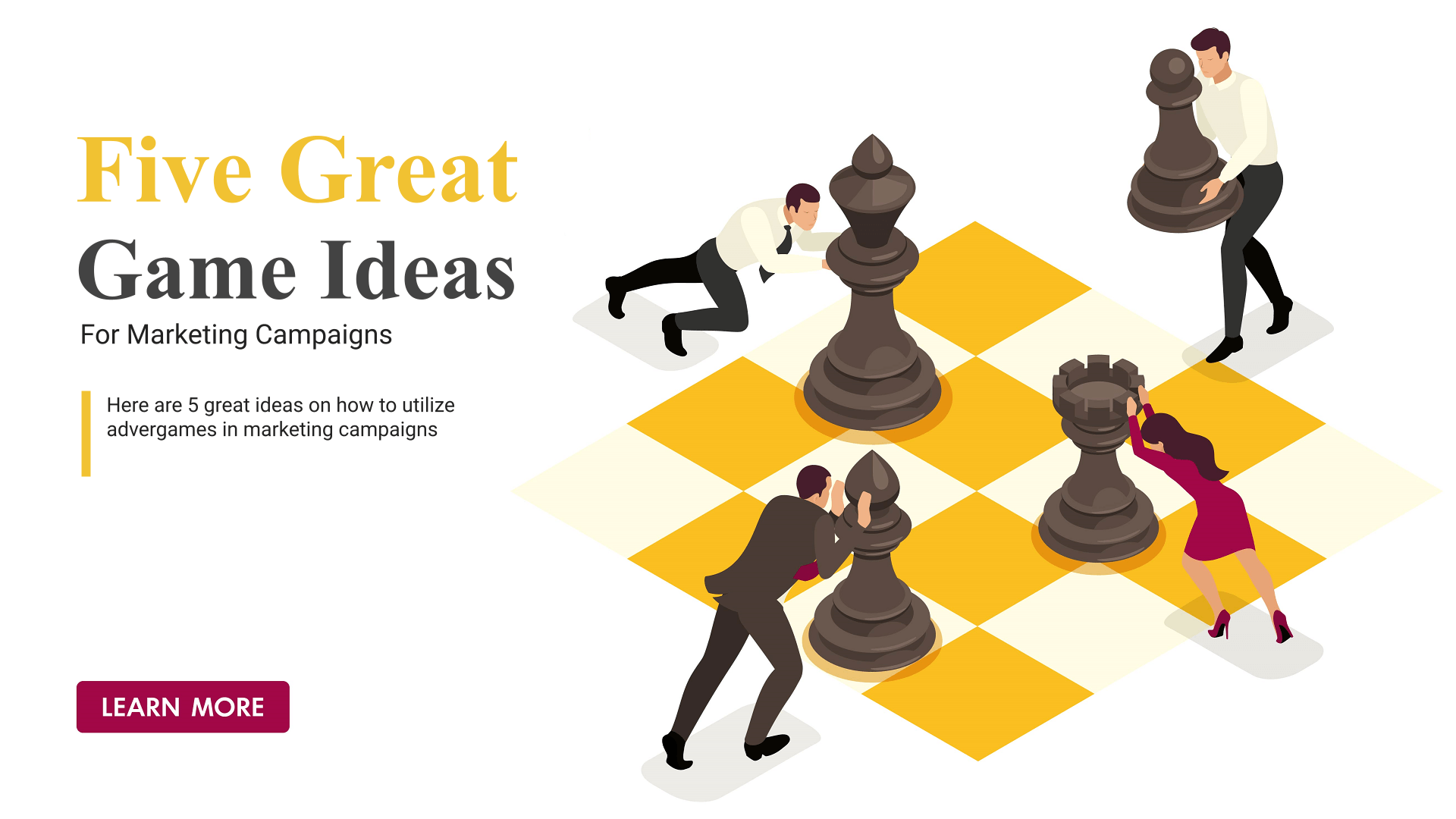 5 Great Game Ideas for Marketing Campaigns
Successful advergames, including gamification strategies in marketing, all have one thing in common. They provide a tangible brand experience. Players who enjoyed these advergames often credit their satisfaction with the advertised business.
To explain this concept, here are 5 great ideas on how to utilize games in marketing campaigns.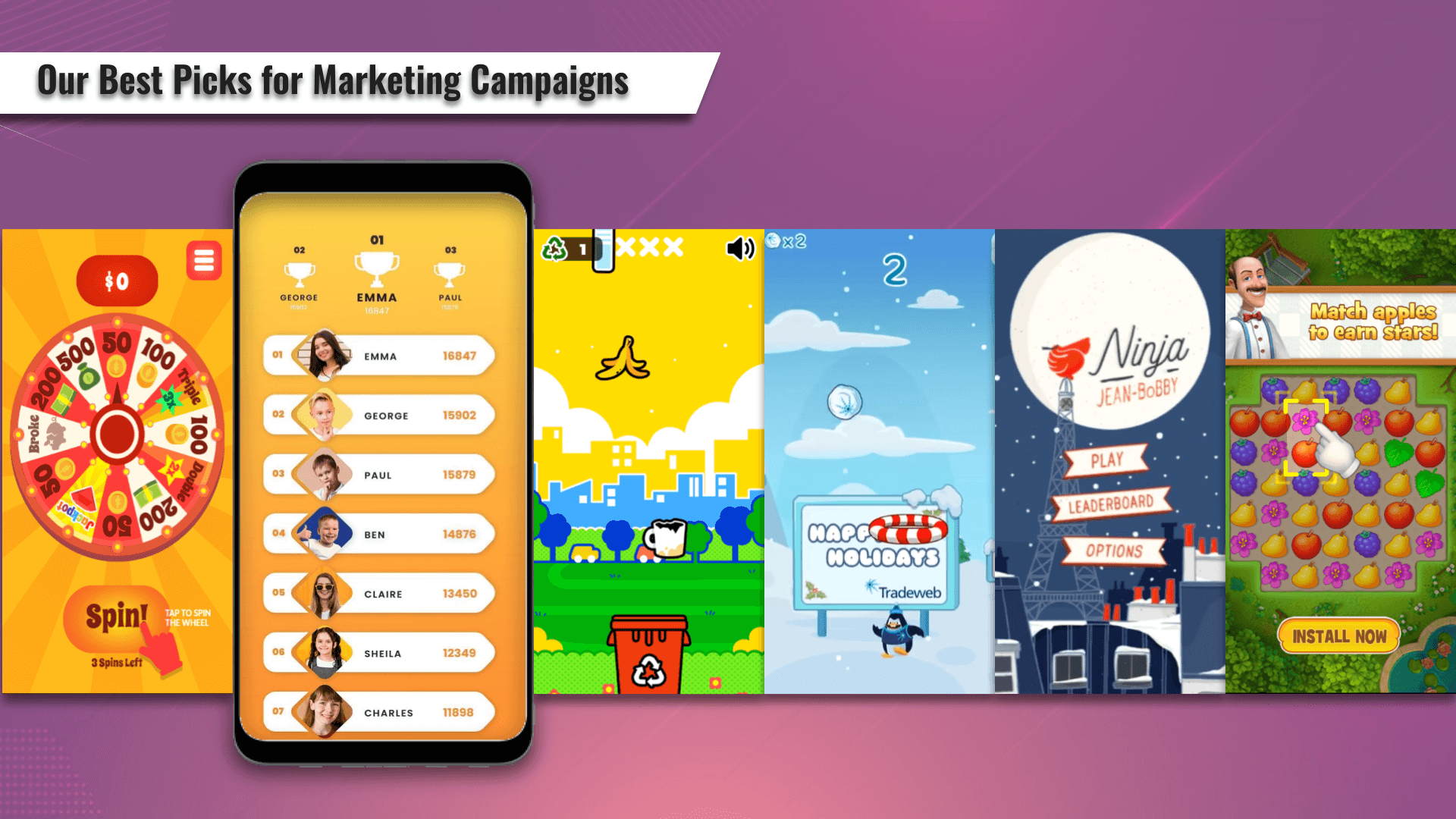 1. Raffles
This is our top pick. The use of raffles is one of the oldest tricks in marketing campaigns. Raffle games, such as spinning a wheel or drawing lots, are luck-based applications that randomly select winners or prizes.
Raffles are easy to develop and implement. Yet, they are highly engaging not just with their participants but also with spectators. There is always a thrill in announcing raffle winners and prizes
Development Details
To implement a raffle system in games, we often follow these requirements:
Method for registering participants
Process for randomly selecting winners including raffle frequency (daily, weekly, and monthly)
Prizes, most common prizes are discounts and branded merchandise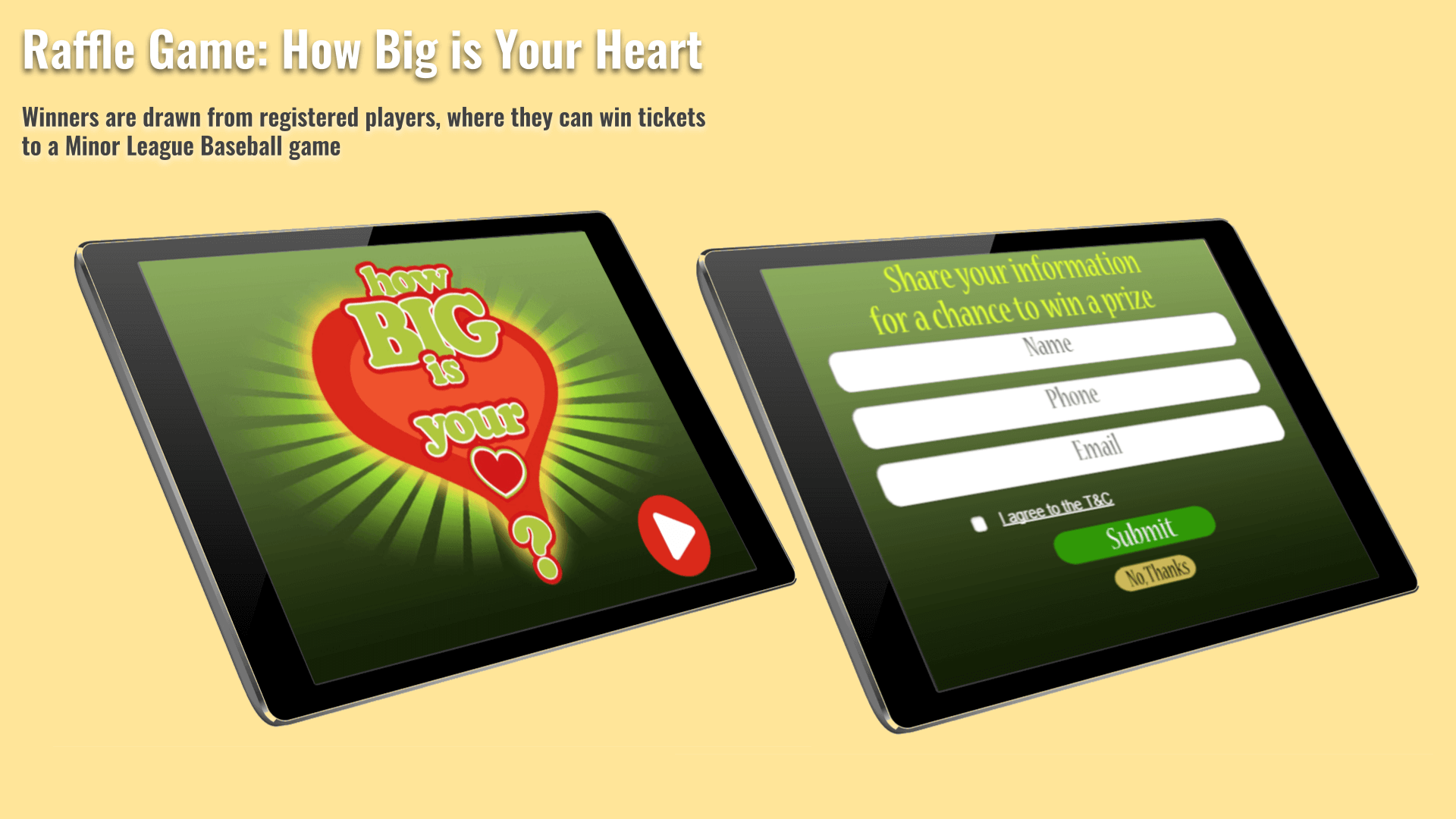 Example: How Big is Your Heart
How Big is Your Heart is an educational clicker game with a mini-raffle for registered players. It was developed by Roswell Park Cancer Institute to help promote cancer awareness among millennials and young professionals.
Raffle System:
Players must complete the game as it also offers guidelines on how to become a Roswell Park supporter
At the end of the game, a registration form appears. Players must register contact details
Winners are drawn from registered players, where they can win tickets to a Buffalo Bisons' game.
Lead Generation Feature:
The game also has lead generation functions. The compiled leads are being used for pursuing potential donors and volunteers.
2. Contests and Competitions
To implement contests and competitions in games, we often follow these requirements:
A registration system for participating players
Scoring system and leaderboards to determine winners, including event frequency
Prizes for winners
Development Details
To implement a raffle system in games, we often follow these requirements:
A registration system for participating players
Scoring system and leaderboards to determine winners, including event frequency
Prizes for winners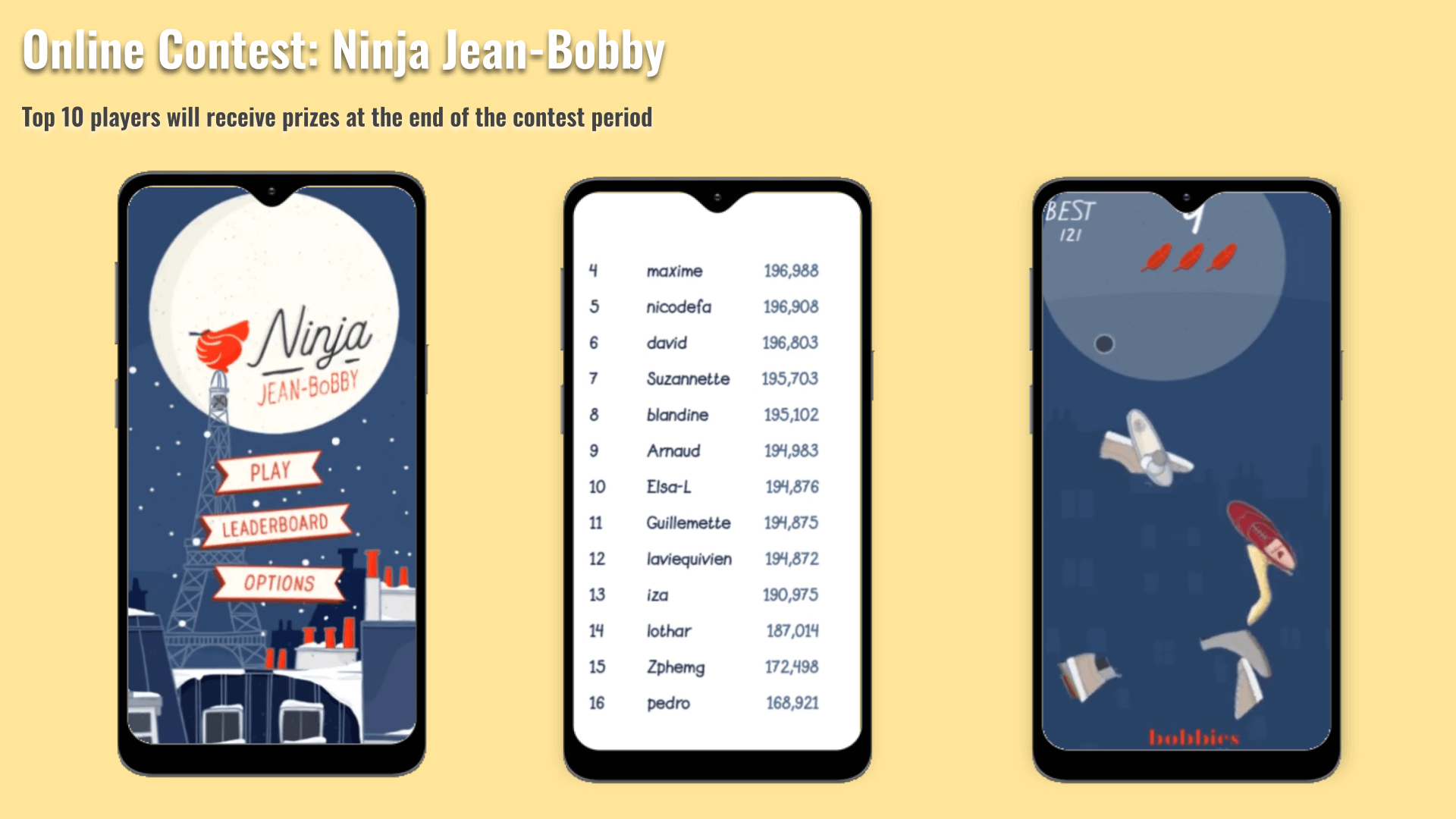 Example: Ninja Jean-Bobby
Bobbies, a Parisian Designer Shoe brand, developed a slicing game for the brand's online contest. Winners will get a pair of Bobbies shoes and other merchandise.
Contest Details:
Players must score points as high as possible
A registration form appears at the end of the game
Registered players will appear on the leaderboard
By the end of the contest period, the top 10 players will receive prizes
Additional Work:
Bobbies' game is conveniently replayable. Registered players can log in again using their username and password to try out for another best score.
The game is also localized to attract its French-speaking audience.
3. Awareness Campaigns
Aside from games where players expect to win prizes, advergames can also work well with awareness campaigns. Games have the power to educate players on certain topics, similarly on how educational games are being used to teach kids about Math operations.
Development Details
Careful selection of game mechanics to represent the topic
Include mini infographic images to convey information
Brand logos and other related images are found heavily throughout the game
Lead generation function is a must to take advantage of player sentiments toward the game topic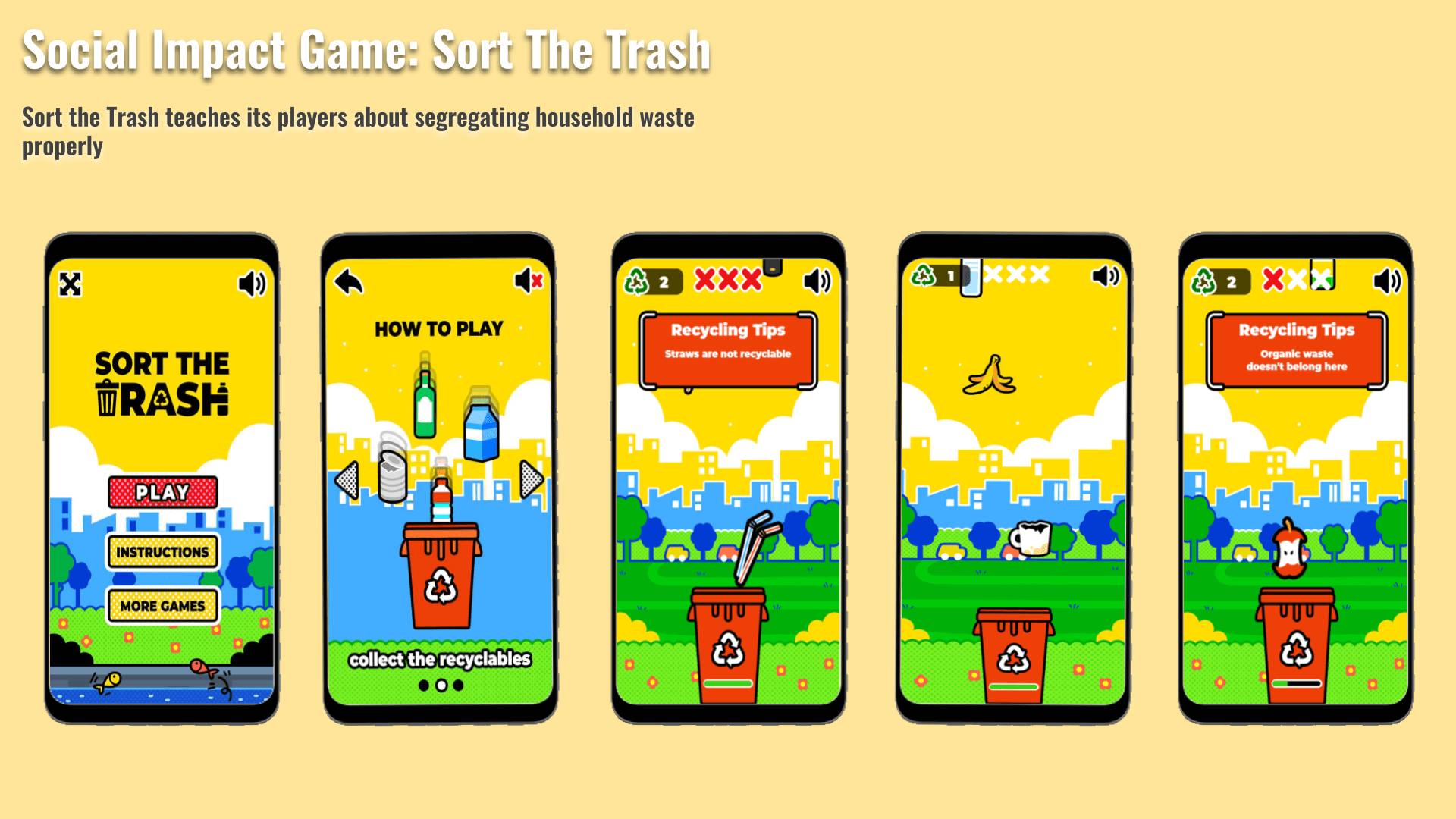 Example: Sort The Trash
Sort the Trash is a catching game designed to teach players how to sort household waste materials for recycling. Its objective is straightforward; players must catch only recyclable materials and avoid contaminators, such as plastic straws and Lithium batteries.
However, Sort the Trash teaches about sorting waste materials by letting the players personally identify them. The game also shares information to help avoid contaminators. As a result, players can easily recall what they have learned from the game and apply them in real life.
Awareness campaigns also work well with profit-making businesses. They can be applied to a product launch or brand activation campaigns where players get to know more about a business and its products.
4. Playable Ads
When playable ads were first introduced, they were meant to let players try out a snippet of a game before downloading. But as the app industry grew, advertisers are now using playable ads for non-gaming apps.
Playables ads have become interactive ads that allow viewers to experience the core functionality of an app for business. This helps them figure out if they like the product or not.
Advantages Over Static Ads:
Inexpensive development and deployment to social media and other platforms
Excellent screener for quality customers. When viewers download the app or game, they already know they like it.
Built-in Call-to-Action (CTA) to direct viewers for installation
Stand-out experience for viewers
Disadvantages
Not all viewer have devices that can support playable ads
Might discourage viewers who are not familiar with how playable ads work
Not as replayable as video ads in general
Playable ads are relatively new. This is why we have disadvantages. However, the benefits of using playable ads outweigh the disadvantages since budget and ROIs are often the concerns in developing marketing campaigns.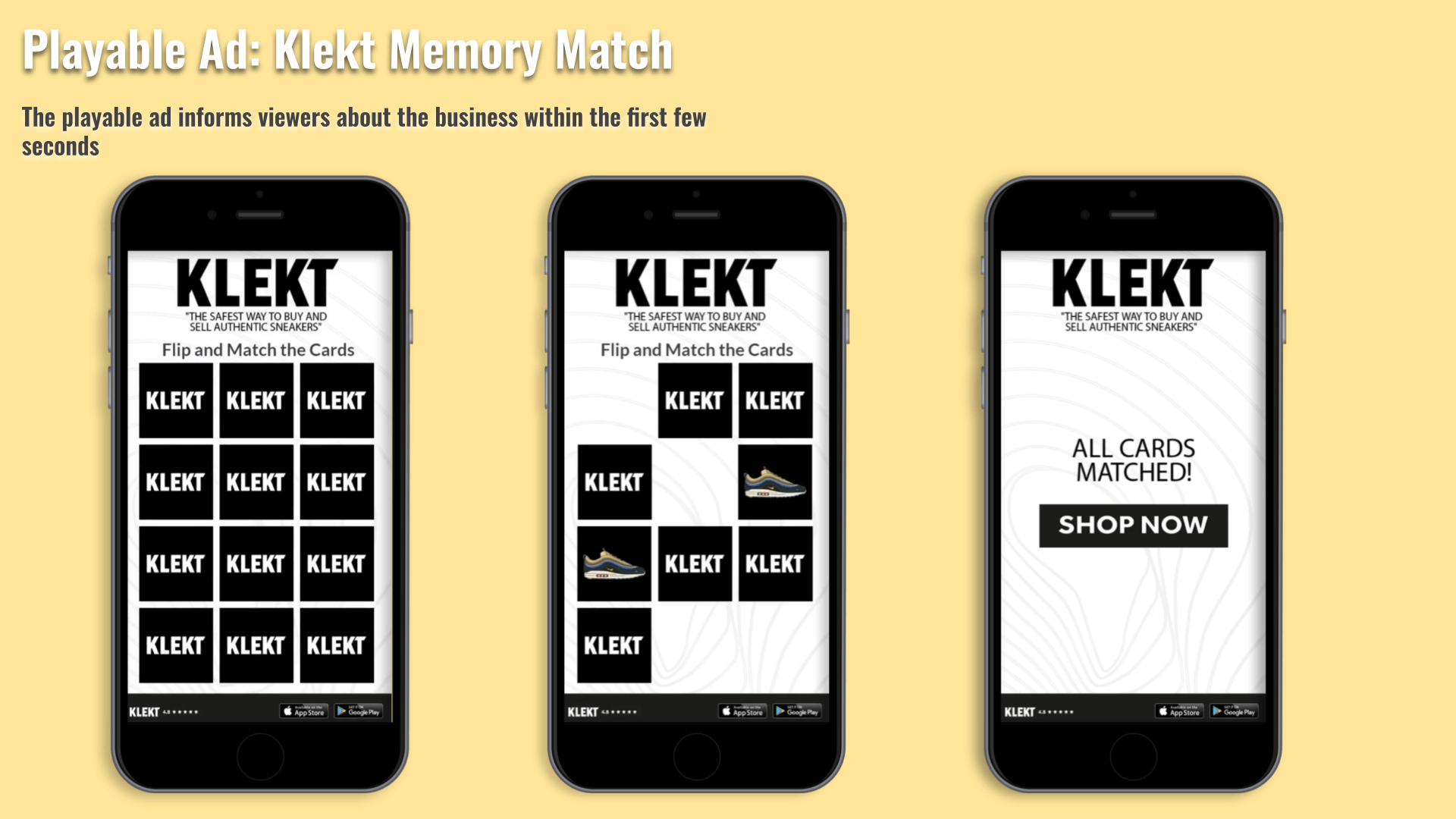 Example: Klekt Playable Ad
Klekt, an online marketplace for sneakers, developed a playable ad to attract Europe's sneakerhead community. Its main goal is to inform viewers about the business within the first few seconds of the ad.
Playable Ad Details:
Used a tile-matching game template
Used various sneaker products as game tiles
Displayed Klekt's logo throughout the game
Added a short brand description on the playing field
5. Holiday and Special Event Games
Lastly, we have games for holidays and special events. Seasonal marketing campaigns can strongly benefit from an atmosphere of fun and positive vibes. In times like these, customers are often willing to spend more, such as during Christmas and Cyber Monday.
Game Development Details:
Graphics and audio must highlight the holiday or event
Careful selection on gameplay to match the occasion
Lead generation function is a must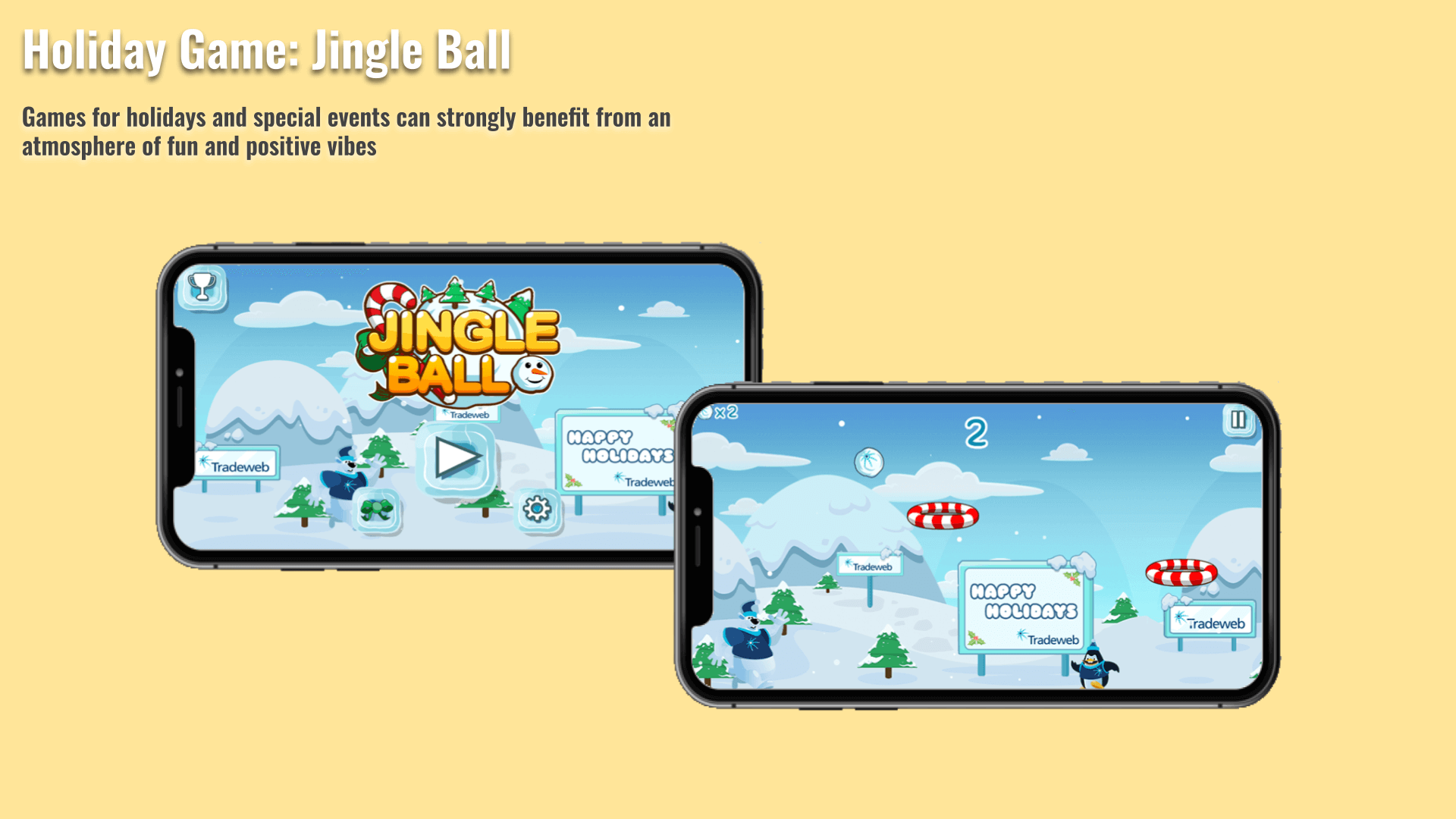 Example: Jingle Ball
Tradeweb Markets, has a tradition of celebrating Christmas with a holiday game. When Flappy Bird was still a hit, the company developed its version of this endless runner game, called Jingle Ball.
The holiday game also implements additional rules to make playing more interesting.
Playable Ad Details:
The player can shoot the snowball to incoming hoops or ring-like obstacles
Successive shots give additional points
The player has 3 lives before the game ends.
We highly recommend reaching and connecting with your customers as part of celebrating holidays and special events.
Closing Remark
There are so many ways to utilize games in marketing campaigns. We are still trying out different ideas to engage our audience better. It all depends on how technology and our audience will evolve. But we believe these picks will be here for a while.
To learn more about advergames, check out our partner, MarketJS.